Big Split 26
April 4, 2024
Big Split 26 is a 50/50 draw which we have been running since 2015. Big Split 26 is 26 weekly draws with tickets priced at $52.00. Each week for 26 weeks a winner is announced, all tickets purchased are valid for every draw and you can win again and again. Since 2016, Big Split 26 has raised over $250,000 to support capital equipment at St. Joseph's Care Group. Tickets for our 2024 draw are on sale now. Weekly cash draws start April 4, 2024 for 26 weeks.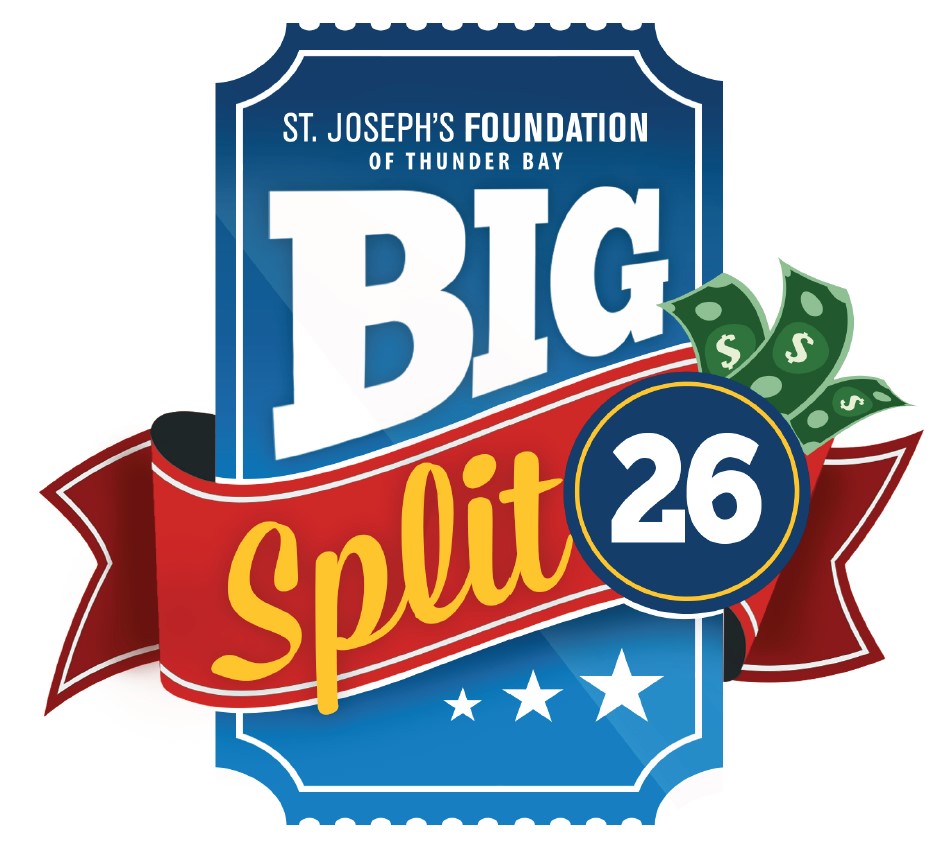 Rules & Regulations
Want to sign up?
Please call by telephone (768-4440) to order a ticket or visit St. Joseph's Foundation office, 63 Carrie Street. Tickets also available in person at the Gift Box at Hogarth Riverview Manor, and St. Joseph's Hospital.
Tickets can be purchased by cash, cheque, Visa, Mastercard, American Express, and debit card.
Tickets also available online here.
Draws will be conducted at 11:00 a.m. according to the Draw Date & Ticket Price document at St. Joseph's Foundation.
How Does This Raffle Work?
The new raffle gives you better odds and bigger winnings
You pay once and have the chance to win for every valid draw remaining
You can buy yourself a ticket or go in on one with a few coworkers or friends and split the cash when you win!
You can increase your chances of winning by purchasing additional entries
Your ticket is in the drum for EVERY draw!
Cash prizes are determined by the number of entries. The more players, the bigger the pot!
Funds raised will be designated for the purchase of equipment and furnishings for the comfort and safety of clients of St. Joseph's Care Group.
IMPORTANT INFORMATION ABOUT THE BIG SPLIT 26 RAFFLE
St. Joseph's Foundation is regulated by Ontario's Lottery and Gaming Corporation polices and guidelines.
Big Split 26 Raffle tickets will expire after the final draw
All current ticket holders will be contacted to renew their ticket purchase(s) for the next year to ensure their continued participation in the Raffle.
Don't miss your chance to win, get your ticket today!
"Know your limit, play within it!"
Ontario Problem Gambling Helpline: 1-888-230-3505
Lottery Licence #M861400
2023 Winners
| Date | Winner | Ticket # | Amount |
| --- | --- | --- | --- |
| April 6, 2023 | Lynda Stokaluk | 0241 | $1900 |
| April 13, 2023 | Rose Morin | 0838 | $1900 |
| April 20, 2023 | Elizabeth Frankow-Reid | 1115 | $1900 |
| April 27, 2023 | Deanna Osborne | 0494 | $1900 |
| May 4, 2023 | Andy Karanasos | 1117 | $1900 |
| May 11, 2023 | Doris Pugh | 1139 | $1900 |
| May 18, 2023 | Kerry Seed | 0489 | $1900 |
| May 25, 2023 | Leona Fleming | 0476 | $1900 |
| June 1, 2023 | Darcy Hunt | 1224 | $1900 |
| June 8, 2023 | Cheryl Henderson-Mitchell | 0282 | $1900 |
| June 15, 2023 | Caterina Ruberto | 0644 | $1900 |
| June 22, 2023 | Diane Harrison | 1332 | $1900 |
| June 29, 2023 | Ernie Erickson | 1301 | $1900 |
| July 6, 2023 | Tracy Bearman | 0863 | $1900 |
| July 13, 2023 | Garry Raynak | 1361 | $1900 |
| July 20, 2023 | Linda Enriquez-Garcia | 0394 | $1900 |
| July 27, 2023 | Nancy Montelpare | 1576 | $1900 |
| August 3, 2023 | Gordon Jones | 1335 | $1900 |
| August 10, 2023 | Robert Kangas | 1775 | $1900 |
| August 17, 2023 | Janet Poirier | 0110 | $1900 |
| August 24, 2023 | Shirley Syrjanen | 1776 | $1900 |
| August 31, 2023 | Karen Kerr | 1118 | $1900 |
| September 7, 2023 | Leona Fleming | 0480 | $1900 |
| September 14, 2023 | Jarret Anderson | 0020 | $1900 |
| September 21, 2023 | Pat Molcan | 1646 | $1900 |
| September 28, 2023 | Rita Zahodnik | 1030 | $1900 |
Past Winners:
Download the 2022 Winner's List! (.PDF)